Importing clothes from China
Importing clothes from China
If you want to import jeans, t-shirts, skirts, jackets or other clothing into the EU or U.S., keep in mind the different mandatory product requirements. You will also have to pay attention to parallel import rules if you are importing branded goods. In this article, we cover relevant regulations and requirements. 
Find this article helpful? Share it with others.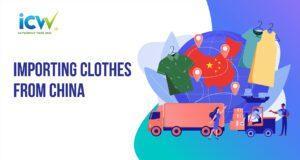 Why You Should Source Clothing from China
Nike and Gap are among many companies worldwide that source their clothing and apparel products from China. This is not without good reason. Below we list some of these reasons:
1. Lower Labour Costs 
With a steady labour supply and lower labour costs than in the EU, U.S. and many places in the world, companies that source their clothing from China can manage their overhead expenditures much more efficiently.  
2. Established Manufacturing Processes 
Chinese clothing manufacturers have invested heavily in their processes, technology and skillsets to meet demand. 
3.Efficient Supply Chain Capabilities 
Manufacturers in China offer efficient and streamlined logistics services that deliver goods on time. Many also offer full-service packages that reduce an organisation's supply chain costs.
4. Experience 
China has a storied history in clothing and garment manufacturing, with expertise in creating apparel in various style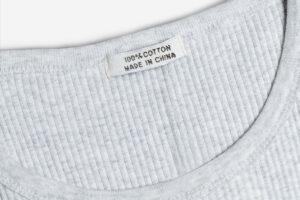 Tips For Sourcing Clothing Manufacturers In China
Below are some tips that will help you source clothing manufacturers in China: 
1. Find Suitable Wholesale Clothing Manufacturers 
Larger manufacturers are not always better. Many of the larger clothing suppliers have a minimum order requirement (MOQ) and usually deal with large-scale orders from major clients, and thus do not have time to assist small businesses. 
Smaller organisations are advised to find small or medium-sized manufacturers who may be more willing to give smaller minimum orders and give more time to your order's specifications. 
2. Choose Clothing Manufacturers Who Comply With Applicable Standards 
For example, manufacturers that comply with the ISO 9001:2008 standard are more trustworthy. 
3. Textile and Clothing Fairs in China 
Attending textile and clothing fairs in China is a good way of finding new business partners.  
Two of the more prominent fairs where suppliers from all over China exhibit their clothing and textile products are: 
Taking place annually in Guangzhou from mid-April to early May, the  Canton Fair is held in three phases, one of which includes textiles and garments. You can attend the Canton Fair virtually. 
Hong Kong Fashion Week Spring/Summer

 
Takes place in early July at the stunning Hong Kong Convention and Exhibition Centre. 
However, due to the COVID-19 pandemic (as of the time of writing), it is currently not possible for non-residents to attend them, although you may be able to participate in some, such as the Canton Fair, virtually. 
LinkedIn is another popular way for Chinese manufacturers to connect with potential leads. The business platform allows you to research manufacturers and reach out to them. 
Product Requirements for Clothing 
After you've found your suppliers, the next step is to ensure the materials they use are up to EU and U.S. standards. Be sure to include all of this information in the product specification sheet you send to your suppliers. 
You can contact us for all the information you need about standards and requirements for clothing imported into the EU and U.S.! 
EU Standards and Requirements for Clothing 
Some requirements are mandatory. Others are voluntary, but meeting them can give you a competitive advantage. 
For example, the General Product Safety Directive governs all consumer products in general, while the EU Regulation 1007/2011 (the "EU Textiles Regulation") is specific legislation that regulates the sale of textiles in the EU. Member States may also have their applicable regulations. 
Noncompliant and dangerous garments can be withdrawn from the market, recalled from consumers or outright banned. 
The following are some of the regulations, standards and certifications applicable to clothing sold in the EU. Note that this list is not exhaustive: 
1. General Product Safety Directive (GPSD) — 2001/95/EC 
The GPSD was developed to ensure a high level of product safety throughout the EU for consumer products not covered by specific sector legislation. In addition to the essential requirement of only placing safe products on the market, you as an importer must also take appropriate measures to prevent the risks of unsafe products being placed on the market and allow for tracing dangerous products. 
The GPSD applies to all consumer products in general. 
2. The EU Textiles Regulation 
EU Regulation 1007/2011 (The "EU Textiles Regulation") regulates the sale of textiles in the EU. These regulations relate to the naming of textile fibres, labelling of textile products and methods of analysis to verify information indicated on labels and marking. 
To sell textile products, you must comply with the EU Textiles Regulation. You must also comply with applicable national laws and regulations that complement the Regulation. REACH 
3. REACH (Registration, Evaluation, Authorisation and Restriction of Chemicals) is a European regulation that aims to protect people and the environment from hazardous chemicals. Under this regulation's Restricted Substances List (RSL), certain chemicals cannot be present or may be restricted in products. For example, certain azo dyes, flame retardants and nickel are banned for clothing and textiles. 
4. Biocides 
Biocides added to textiles to protect humans, animals or materials from harmful organisms such as pests or bacteria must comply with the EU's Biocidal Product Regulations and REACH. 
5. POPs (Persistent Organic Pollutants) Regulation 
This European regulation aims to protect people and the environment from hazardous substances. Under this regulation, certain chemicals cannot be present in clothing. For example, PFOA, its salts and PFOA-related compounds are banned. 
6. CE marking 
Certain textile, apparel and footwear products, such as PPE, must bear a CE mark. This CE mark — which must be displayed on the garment, its packaging or the information that comes with it — indicates that it meets certain minimum requirements for safety, health and environmental protection. 
You must issue a Declaration of Conformity with the application of a CE mark. As an importer of products manufactured outside of the EU, you will have obligations regarding this Declaration of Conformity. 
7. Flammability Requirements 
There are no specific requirements regarding clothing flammability in the EU. However, several individual countries do have such requirements, including Ireland, the Netherlands, Switzerland, Sweden and Norway. 
The EU has a voluntary standard regarding the "burning behaviour of children's nightwear", as stated in the General Product Safety Directive. 
8. Cords and Drawstrings on Children's Clothing 
Because children up to the age of 14 are considered a vulnerable user group, cords and drawstrings on clothing for children up to this age must satisfy specific safety requirements. This is to avoid strangulation and entrapment hazards.  
These requirements are described in the EN 14682:2014 standard, which was harmonised under the General Product Safety Directive (GPSD) in 2015. This makes it a mandatory standard in all EU Member States. 
Specific requirements are categorised according to age groups: 
Children from birth to 7 years old: those up to and including a height of 134cm.

 

Children from 7 to 14 years old: boys from 134 to 182cm and girls from 134cm to 176cm tall.

 
Noncompliance with EN 14682 is the primary reason for product recalls in the EU RAPEX (Rapid Exchange of Information System) for children's clothing.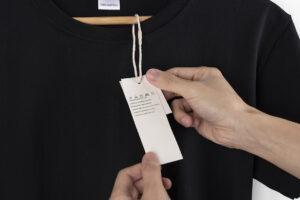 9. EU Labelling for Clothing 
EU law makes fibre composition as well as fur and leather content labelling mandatory. In addition, certain Member States may have other requirements, so keep up to date with them. 
Labelling must be in the official language(s) of the countries in which they are sold. 
Certain products listed in Annex VI of the EU Textiles Regulation can use inclusive labelling (a single label for several products or components) if they are of the same type and fibre composition. Some examples are belts, shoes and bootlaces, ties and bow ties for children and handkerchiefs. 
Some product types listed in Annex V of the EU Textiles Regulation are not subject to mandatory labelling or marking requirements. An example is sleeve-supporting armbands. 
10. Fibre Composition Labelling 
EU regulations require all textile products to be labelled with their fibre composition. These labels must explain the composition of the fabric in decreasing percentage order. The text must be clear and legible, with uniform lettering, and be separated from other information, such as that for product care. 
11. Fur and Leather Content Labelling 
The use of animal-derived materials (fur and leather) must be clearly stated on labels. 
12. Care Labelling 
Some EU Member States make care labelling compulsory. 
Care labels give consumers and clothing caregivers information about a garment's best cleaning procedures. 
A correct care label for European countries must contain at least four and sometimes five symbols in the following sequence: 
Washing

 

Bleaching

Drying

 

Ironing

 

Professional textile care

 
Care symbols commonly used in the EU comply with ISO 3758:2012 and are based on the care symbols developed by GINETEX. These symbols are registered as international trademarks by GINETEX and a fee may be involved for use in certain markets. 
13. Country of Origin Labelling 
Country of origin labelling is not generally required in the EU — unless a particular Member State requires it. However, many garments sold in the European Union still bear such labelling, as it is required by many other countries, including the United States. Therefore, if you plan to sell clothing in the U.S., you may as well include country of origin labelling. 
Furthermore, you are not allowed to mislead consumers into thinking that your clothing was manufactured in a different country than it was. 
However, you must always state the country of origin in the customs import declaration. Furthermore, the General Product Safety Directive 2001/95/EC obliges distributors to keep and make available documentation necessary for tracing the origin of products. 
14. Size labelling 
EN 13402 was developed for labelling clothing sizes. It was supposed to replace several older national clothing size systems in popular use before 2007; its applicability may vary in the different EU Member States.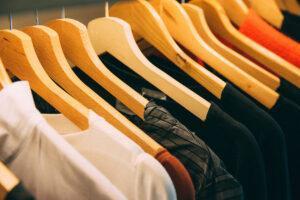 U.S. Standards and Requirements for Clothing
All imports, including clothing imports entering the U.S., require compliance with several government agencies.
This includes inspection and approval by the U.S. Customs and Border Protection (CBP) agency when arriving at a port of entry. In addition, regulations from one or more of the following agencies may need to be observed when completing your shipping documentation:
Federal Trade Commission (FTC): Sets and enforces rules for labelling, the use of care instruction labels and the listing of the correct country of origin.
Consumer Product Safety Commission (CPSC): Maintains flammability standards, particularly children's sleepwear. The CPSC has the authority to demand the destruction of non-compliant shipments.
Environmental Protection Agency (EPA): Sets standards for the coating and dyeing of textiles and clothing.
1. Flammability Requirements
All clothing intended for everyday wear by adults or children must meet the General Wearing Apparel Standard (16 C.F.R. Part 1610). This standard rates the flammability of textiles used in clothing and has three levels. Textiles rated as Class 3 cannot be used in clothing.
Apart from 16 CFR 1610, other textile-related flammability requirements are below:
16 CFR 1611 – Flammability requirement of vinyl plastic film, including materials used in clothing.

16 CFR 1615 – For children's sleepwear sized above 9 months and up to 6X 

16 CFR 1616 – For children's sleepwear sized above 7 through 14 
Any violations can result in fines and the destruction of your shipments in port at your cost.
2. Additional Requirements for Children's Clothing
The CPSC has stringent requirements for children's clothing, specifically sleepwear, covering textiles and attachments like buttons and zippers.
The General Wearing Apparel Standard (16 C.F.R. Part 1610) previously mentioned must be certified by a third-party laboratory test approved by the CPSC. Clothing marketed as children's sleepwear must use fabric that can self-extinguish after being removed from a small fire or heat source. This means that the fabric must be almost fire retardant.
There are many more requirements than this. For more details, contact us or visit the CPSC website.
3. U.S. Labelling for Clothing
Generally, textile and apparel products sold in the U.S. must contain the following information: fibre content, care instructions, country of origin and manufacturer or importer identity.
It's possible to include all of the FTC's required labelling information on one label, although you can also include the information on separate labels. These labels must remain attached to the garment until it reaches the consumer, meaning they cannot be included on hang tags. If the garment has a neck, the country of origin information must be located on the inside centre of the neck, while other labels must be placed in easily noticed locations.
4. Fibre Content Labelling
Like the EU, all textiles in the U.S. must be labelled with their fibre content in descending order in terms of percentage.
All fibres that have functional significance in the garment must be listed, while non-functional fibres do not need to be listed if their concentrations are under 5 per cent each. Non-functional fibres can be included as a total percentage under "other fibres".
Decorative items, such as braids and belts, do not need to be listed if they are less than 15 per cent of the garment. Likewise, trimmings and ornamentation that do not exceed 5 per cent of the total composition of the garment can be omitted. Still, the phrase "Exclusive of Ornamentation" must be listed at the bottom of the label.
Linings must be labelled separately, and all textile materials should be listed under their generic names rather than their trade names.
5. Care Labelling
Under the Care Labelling Rule of the FTC, clothing must have care labelling with customer care recommendations. For example, care practices that may harm the garment must be disclosed and suggested washing temperatures are required. These instructions must be clear, legible and designed to last the garment's life.
6. Country of Origin Labelling
Only products manufactured in China and using Chinese materials can be labelled "Made in China". When the material used to manufacture the garment is imported, "Made in China from imported material" should be shown instead.
As stated previously, the country of origin of labelling is not mandatory in the EU — unless required by a particular Member State — but it is in the U.S., so you might as well include this if you are planning on selling your products in the U.S. as well.
7. Other Labelling requirements
There are other labelling needs for some categories of garments and some are listed below for reference.
Wool product labelling: 16 CFR 300

Fur product labelling: 16 CFR 301

Leather product labelling: 16 CFR 24

Uniform law label for filled clothing
ICW Helps Your Business
The above are just some of the strict rules imposed on products traded in Europe and the U.S. These rules are enforced by national bodies that have the right to fine or even prosecute non-compliant importers. This must be done to protect people, animals and the environment.
ICW's Quality & Supplier Compliance Management Platform helps your company follow these rules. So get your clothes from China without any worries!