Many, though not all, consumer products traded within the European Union must bear a CE mark. This CE mark shows that the product meets health, safety and environmental standards and may be traded within the EU. Think of toys or electrical appliances, which must be assessed and possibly tested. In this article, we explain more about your obligations regarding CE marking.

Find this article helpful? Share it with others.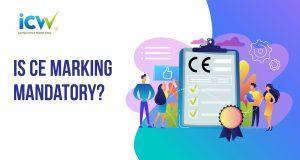 1. Why CE marking mandatory?
"CE" is the abbreviation of "conformité européenne" (French for "European conformity").
The CE mark indicates that the product concerned meets specified standards that allow it to be sold freely anywhere in the EU, regardless of country of origin.
It may also be found on products sold elsewhere if they meet EU standards.
The CE mark consists of the CE logo itself, as well as the four-digit Notified Body identification number, usually found to the right of or below the CE logo.
If a Notified Body is not involved, i.e. self-certification is carried out, there is usually no need for an identification number.
Notified Bodies are organizations that have been nominated by a member state — and accredited — to carry out Conformity Assessment Procedures.
These Notified Bodies act as Independent Inspection organizations. They carry out the Procedures as listed in the relevant Modules according to the relevant Directives.
A manufacturer can choose any Notified Body — for the relevant Directives and Modules — in any Member State of the EU.
To protect consumers, CE marking is mandatory for some product types. However, the CE mark is not an indicator of quality nor a certification mark.
The choice for which product groups the CE marking is mandatory lies with the European Union.  Note that not all products require CE marking, such as cosmetics or foodstuffs.
There is a mandatory requirement regarding the size of the CE marking displayed, namely a minimum height of 5 mm. The proportions of the mark must also be correct.
Self-certification, Modules, Directives and the Conformity Assessment Procedures are explained in the below section "The CE marking process".
2. Which products require CE marking?
CE marking applies to 25 product groups. These include:
Ø  Toys; 
Ø  Electronic products;
Ø  Personal protection equipment (PPE);
Ø  Medical devices;
Ø  Machinery; 
Ø  Pyrotechnic products;
Ø  Measuring instruments;
Ø  Construction products.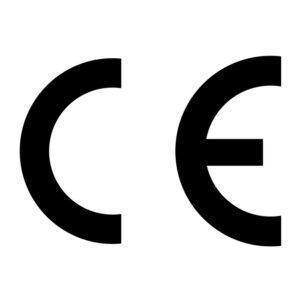 3. The consequences of CE marking non-compliance
It is forbidden to affix a CE marking to an item outside of the above-mentioned product groups.
It is also a criminal offence to affix a CE mark to a non-compliant product.
Products may be tested by a third-party laboratory. to assess if they meet legal safety requirements, although this is not a must for all products that require CE marking, such as toys. If the product does not comply with such safety requirements, it may not bear the CE marking nor be traded within the EU market.
When a controlling authority finds that a CE marking has been wrongly issued or that there is no CE marking (if applicable), authorities can take drastic measures, for example, they can:
Ø  Oblige the manufacturer or importer to modify the product.
Ø  Withdraw the product from the market.
Ø  Reject and return your items at the customs.
Ø  Criminally prosecute you.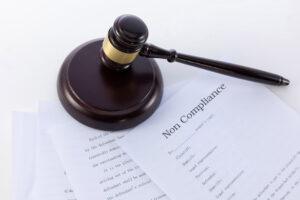 4. Rules underlying CE marking
Responsibility for affixing CE marking lies with the manufacturer.
However, importers and distributors take over the responsibilities of the manufacturer if they market these products under their own name or trademark or modify them. They must then have sufficient information regarding their design and production, as they assume legal responsibility for them.
Before affixing CE marking to the product, the manufacturer, importer or distributor must carry out a Conformity Assessment, draw up technical documentation and sign the EU Declaration of Conformity. The documentation must be made available to the market surveillance authorities (MSA) on request.
Importers must verify that the manufacturer located outside of the EU has undertaken all necessary steps and that the documentation is available upon request. They should also ensure that contact with the manufacturer can always be established.
Distributors also have certain obligations and must ensure that the products bear CE marking.
5. The CE marking process
As a manufacturer, you should follow these six steps in order to affix CE marking to your products:
A. Identify the applicable Directive(s) and the harmonised standards you must satisfy.
According to the EU's Blue Guide, the European Commission has published over 20 Directives. These lay out, in general terms, the requirements for products intended to be manufactured or imported into the EU.
Under each Directive is listed a set of standards, which have been produced and updated by multinational committees and specify in detailed technical terms how these requirements are to be achieved. Such standards are implemented by individual EU countries and some are ultimately adopted by the European Commission and listed under the above-mentioned Directives.
The European Commission states that a harmonised standard is one that has been published in the Official Journal of the European Union (OJEU) and applies to all countries in the EU. These harminised standards are developed by a recongised European Standard Organisation: CEN, CENELEC, or ETSI.
Harmonised standards can be used by manufacturers and importers as a guide to use for product compliance. This is because whether a manufacturer conforms to such harmonised standards is in fact voluntary.
Manufacturers can adopt their own standards to satisfy the Directives set out for them. Nevertheless, using harmonised standards is the most straightforward way to compliance.
Non-harmonised standards may differ from one country to another if there are no harmonised standards for the product concerned, or they only apply to certain aspects of the product.
In other words, non-harmonised standards are only adopted within individual countries.
In addition, you can adopt other standards in the case where no harmonised standards exist. For example, you can use:
Ø UL standards
Ø IEC and ISO standards
Ø ASTM
These standards may not fit all of the requirements that concern a given Directive or regulation but still serve as a good starting point to achieve compliance.
Lastly, it should be noted that a product can be covered by more than one Directive. For example, an electrical meat grinder is covered by the Machinery Directive as well as the Low-voltage Directive.
To summarise step 1:
Ø Identify the Directives that apply to your product. More than one may apply.
Ø Determine the standards you will adopt to satisfy these Directives.
B. Identify whether a Conformity Assessment by a notified body is required or if you can self-certify the product
Depending on the risk category of your product, you may be able to carry out your self-certification. Specifically, products involving minimal risk can be self-certified
Minimal risk products belong to Category I. There are three categories involved:
Ø Category I – Minimal risk.
Ø Category II – Other risk (of leading to more serious injuries).
Ø Category III – Serious risk (of leading to irreversible harm to health and/or death).
This means self-certification is only possible for Category I products.
While self-certification can be an option, products in other risk categories require the involvement of an authorised third party: a Notified Body. The Notified Body would be needed to perform the Conformity Assessment and possibly a mandatory factory production control audit.
You can search for a Notified Body in the Nando database of the European Commission.
If you have determined you can self-certify the product, choose the Conformity Assessment Modules within the applicable Directives according to the product type and risk category involved.
To summarise step 2:
Ø Determine the risk category of your product.
Ø Determine whether you can self-certify.
Ø Prepare for the Conformity Assessment, whether it is done by yourself or through a Notified Body.
Ø If self-certifying, determine the Modules that you must satisfy within each Directive.
C. Assess the product's conformity and rectify areas of non-conformity.
This involves the Conformity Assessment — whether by you or a Notified Body — and/or testing.
Rectification of non-conformity may involve redesigning your product, adding protective measures and equipment and changing marking and instruction manuals.
D. Compile the technical file/documentation.
Before placing your product on the market, a technical file must be created that contains the information required to show that it complies with the applicable Directives.
The Directives contain clauses that give general details about the information required.
Information required in the technical documentation includes, but is not limited to:
Ø List of standards applied.
Ø Part list.
Ø Copies of any markings and labels.
Ø Copy of instructions.
Ø Test reports.
Ø Quality control and commissioning procedures.
Ø The EU Declaration of Conformity.
The technical file/documentation can be in paper or electronic format and must be held for 10 years after the manufacture of the last unit.
E. Affix the CE marking.
You must be confident that you have completed all the above steps correctly as it is illegal to affix CE marking to a non-compliant product.
Remember that drawing up and signing the EU Declaration of Conformity comes before the affixing of CE marking.
For details on the CE marking process, visit the official website of the European Commission.
6. Ensure your CE marking is done right!
A CE mark is important if you want to market your products on the European market. However, ensuring that your marking is done right is also highly important.
The legal safety requirements in the European Union are constantly changing. It is therefore important to keep up-to-date with new developments for obtaining and using CE marking. This way you know the requirements your product has to meet at all times.      
ICW is a quality and supplier management platform that helps you with this.   
We offer a comprehensive Software-as-a-Service platform and certification marketplace for retailers, importers, brands and e-commerce companies to manage supplier quality and product compliance.
We provide the means for you to perform Conformity Assessments with the help of Notified Bodies and satisfy all the standards required of you by EU regulations.
Create and fill technical files, renew and manage reports and certificates in a snap!